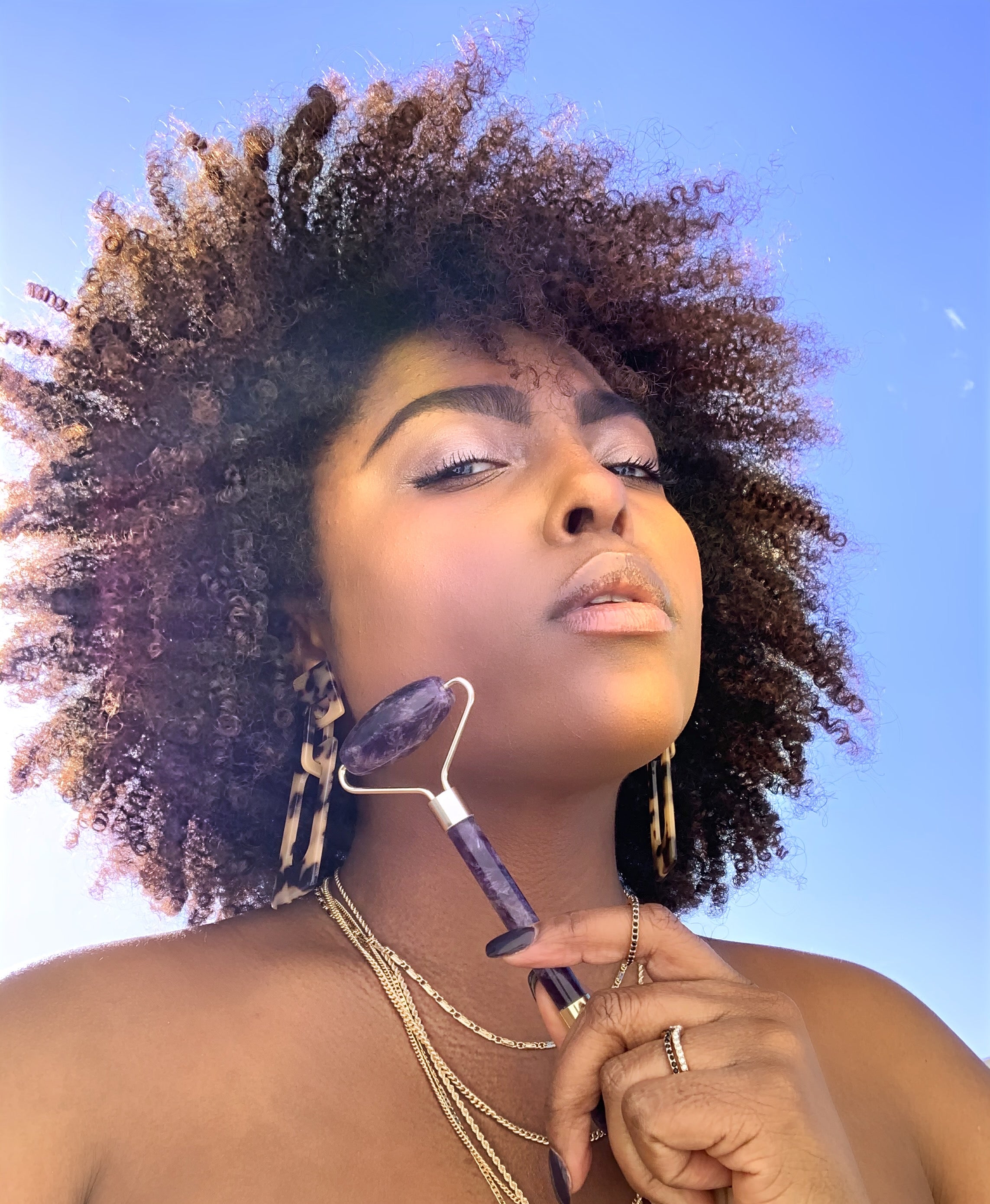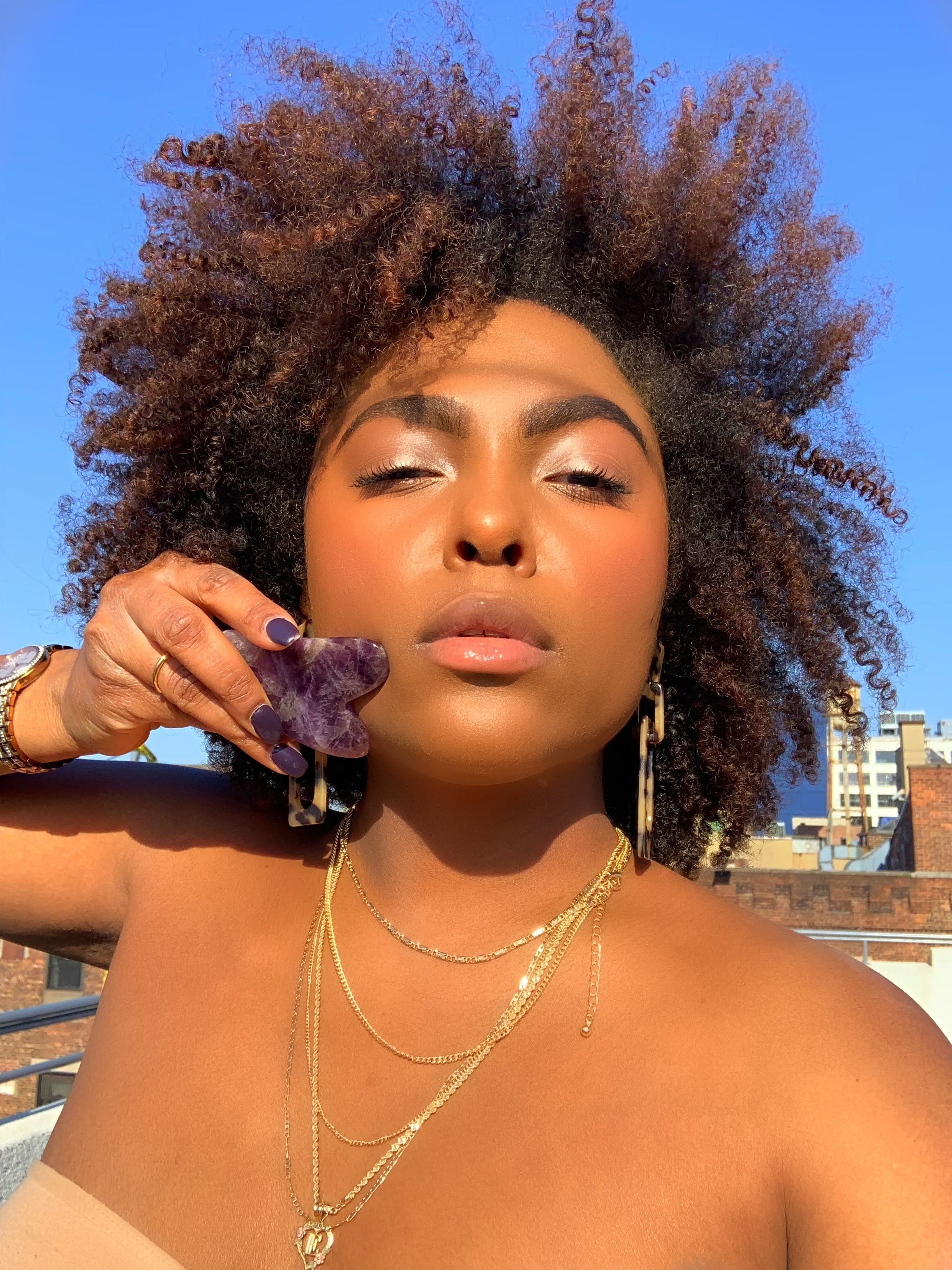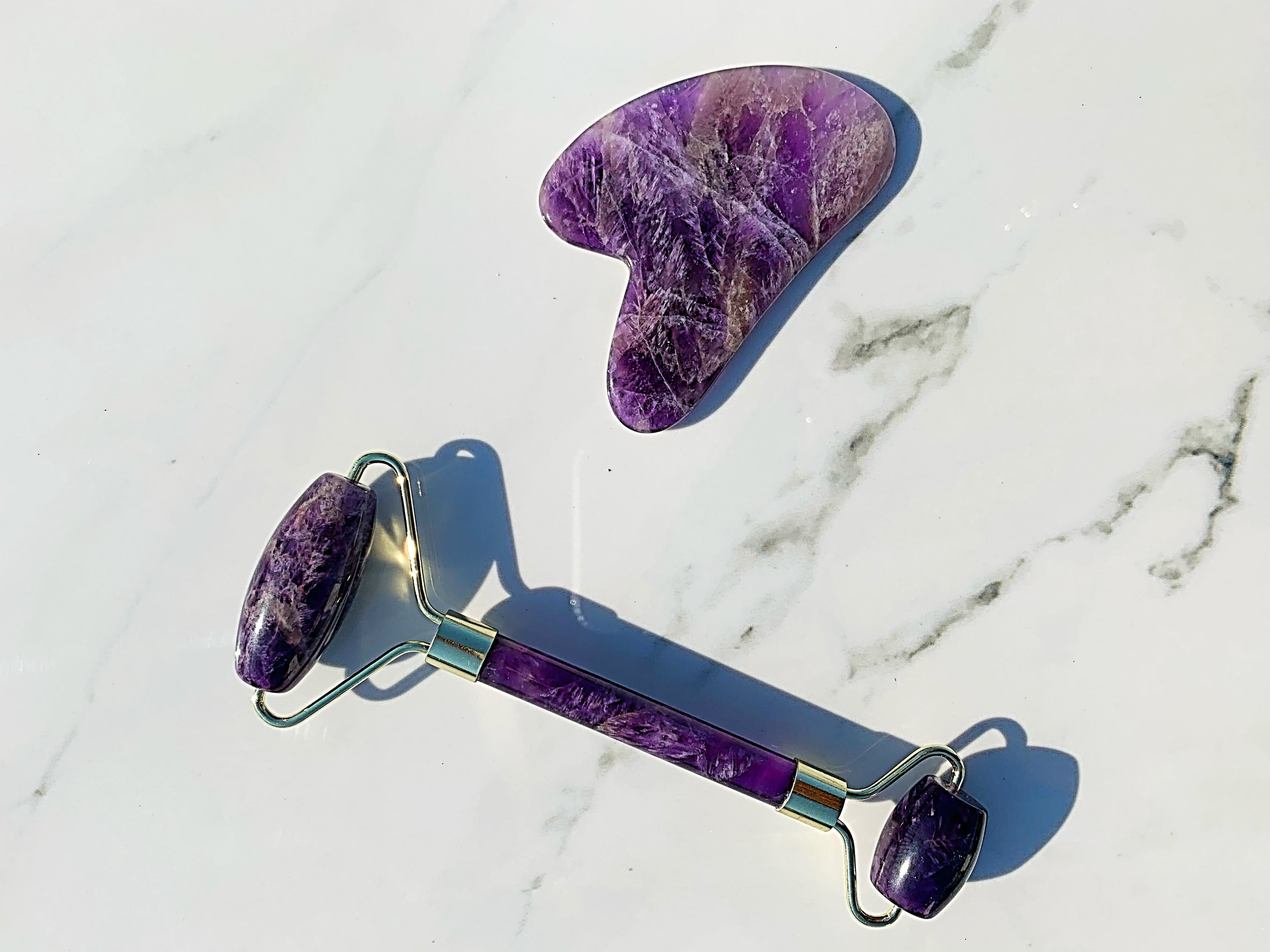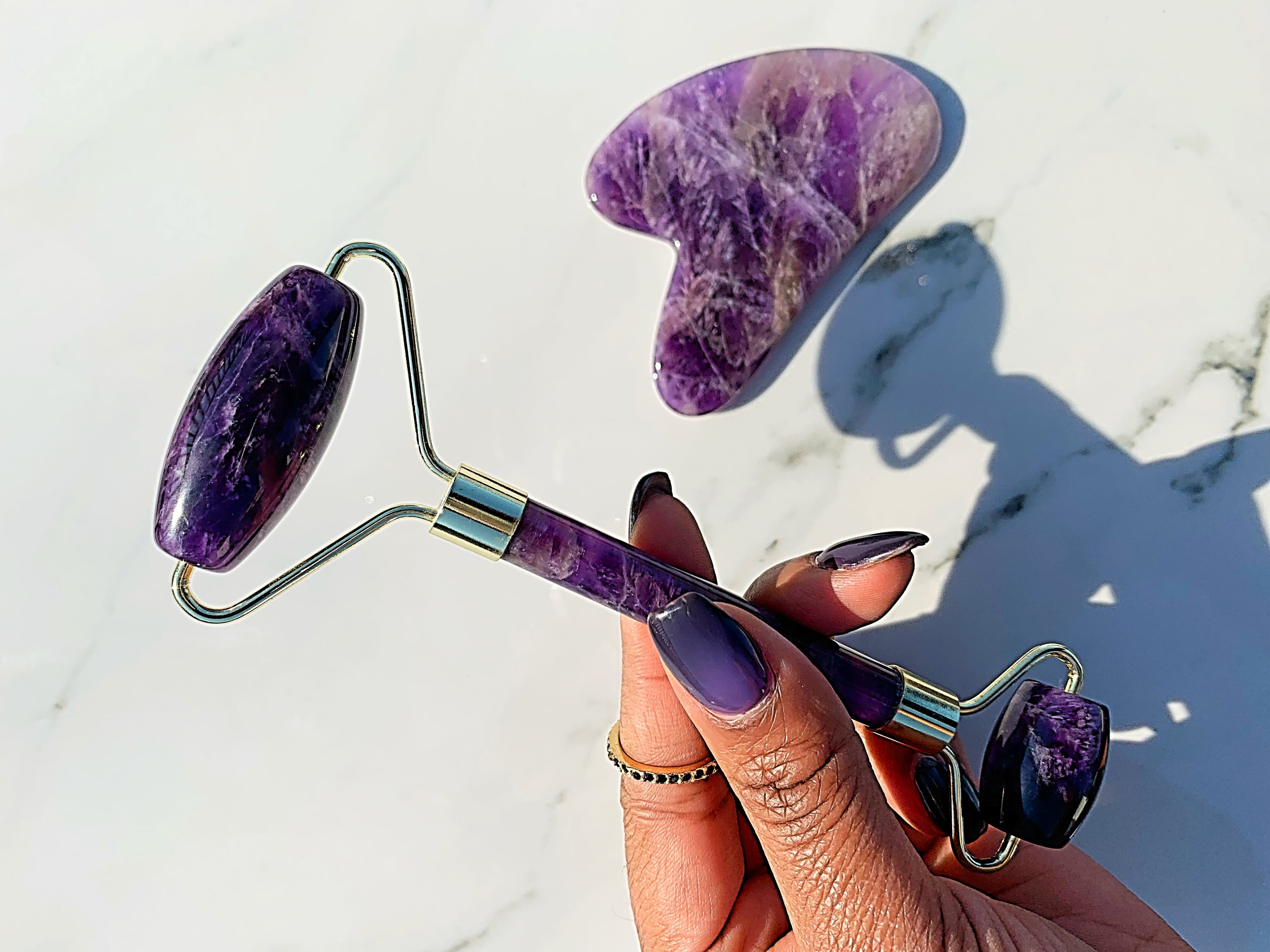 Beauty Strike Amethyst Roller + Gua Sha Set
Beauty Strike Amethyst Face Roller + Gua Sha Set is used to enrich the Morning & Evening Ritual.
This surreal, natural crystal roller has a large and small stone that you simply roll over your face in an outwards direction. 
After applying facial essential oils or serums, using the  Facial Roller & Gua Sha will multiply skin benefits by increasing the absorption of vital nutrients to brighten and promote a youthful complexion. Use for 5-10 minutes first thing in to morning or anytime of day to awaken and revitalize your face. Cool in the freezer prior to use for enhanced blood circulation.
Benefits that may occur from usage:
Reduces the appearance of wrinkles and lines
Improves product absorption for maximum benefits

Reduces puffiness and helps i

mprove elasticity of the skin
Cools and calms the appearance of your skin 
The Beauty Strike Facial Roller & Gua Sha detoxifies your completion with lymphatic massage to improve skin elasticity, decrease wrinkles and eliminate puffiness. This slimming facial roller promotes healthy toning while reducing under eye circles, puffiness and may help reduce scars.
Amethyst- Sleep + Healthy Body Royalty among crystals, Amethyst is credited with offering stress and tension relief to promote increased detoxification of the mind and body.
Gua Sha
Use your Beauty Strike Gua Sha tool over clean skin daily for 3 minutes -5 minutes daily for radiant skin. Repeat each exercise below at least 5x per workout and do each side of the face separately for maximum benefit.
Pro Tip: Apply Vitamin C serum or Beauty oil to give your skin the necessary lubrication for massage.
Jawline and Chin: Glide your Beauty Strike Heart Facial Gua Sha tool upwards from the center of the chin out to the earlobe to contour the jaw
Forehead: Start at the center of the forehead and divide your forehead into three section and glide your tool outwards. Scrape once, then move down a bit and scrape again.
Under-Eye: Start in the inner corner of the eye, and glide outwards to the temple to send your eye-bags packing (Be SUPER delicate in the area around your eyes)
Brows: Glide upwards along the brow bone - going from the inside out.
Lips: Glide over your lips back & forth 5-7 times for plumped pout
Neck: Section your neck into 4 areas and scrape each section from the bottom up - 5 strokes per section.
Note: Your Beauty Strike Facial tool should be used with light pressure on the face to prevent bruising on the face. 
How To Clean Your Amethyst Roller + Gua Sha:
Your crystals should be wiped down with a dry or little moist towelette only on the crystal parts. Do not wash with water.
Warning: Any harmful consequence resulting from misuse or application to other body areas, not following instruction or any other improper applications is neither the responsibility of Beauty Strike, or its affiliates. The above statements have not been evaluated by the Food and Drug Administration. This item is not intended to diagnose, treat, cure, or prevent any disease.
Beauty Strike Amethyst Roller + Gua Sha Set